There are few people in the industry that know more about shocks and shock setup than JJ Furillo.  We've known JJ for several years and he has been instrumental in helping us develop shock and suspension packages for many of our builds here at JCG Restoration.  He's also heavily involved in our custom shock building service here at JCG.  We recently sat down with JJ to talk about his new company Ultimate Performance and find out why shocks play such an important role in the performance of a vehicle.
You've historically been a shock guy but have recently extended your reach to all sorts of tuning and vehicle setup.  What is Ultimate Performance all about?
At Ultimate Performance we provide manufacturers representation, build consultation, shock service and suspension tuning.  Suspension is our speciality but as a representative of several major performance brands, we provide sales and support for the brands that we represent.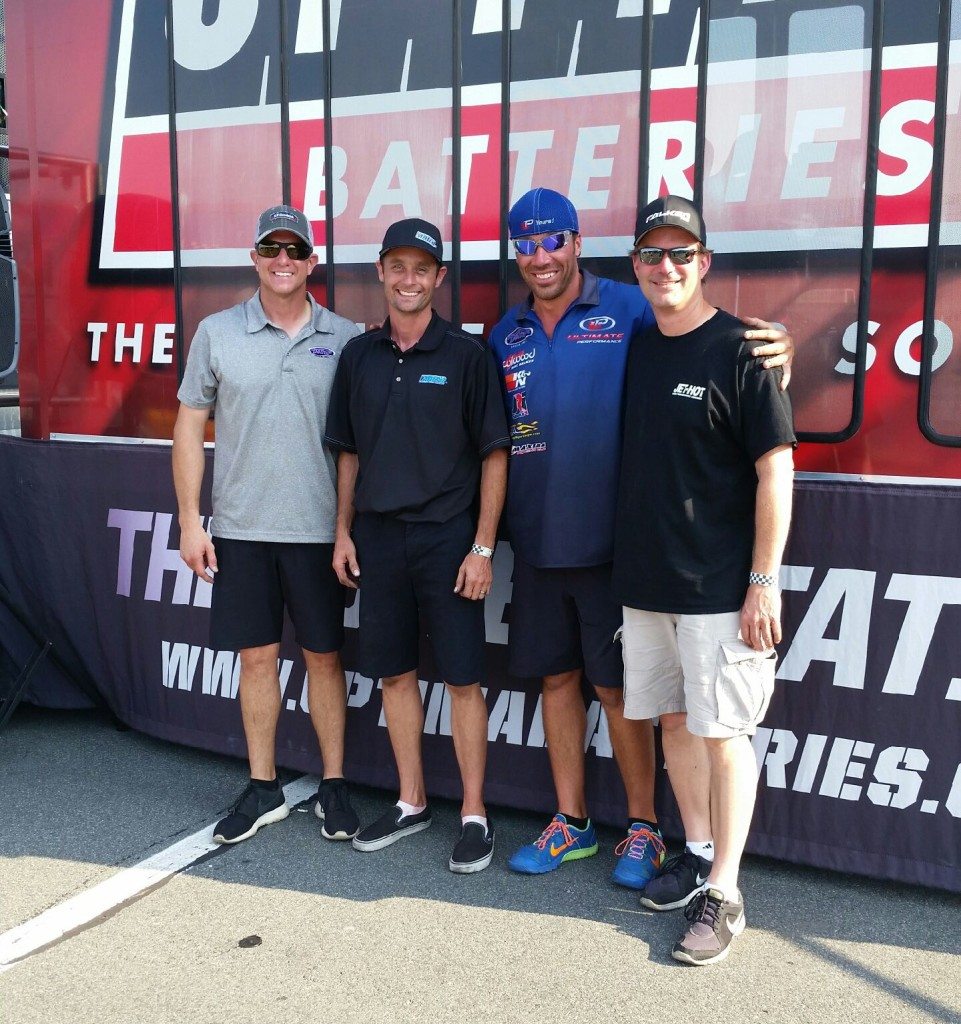 You regularly work with some of the biggest names in the pro touring world.  Brian Hobaugh, Danny Popp, Kyle Tucker, Mike Maier, etc.  How have you managed to build relationships with so many of the top drivers?
Having a deep understanding of both the products and the vehicles has opened doors with many of these individuals.  Being able to optimize their vehicles at different events for different tracks and conditions has helped us earn their respect and given us instant credibility in the industry, not only with them but many of their competitors as well.
JCG Restoration is helping support Jake Rozelle this year and you've worked quite a bit with him as well.  Why do you think Jake has experienced so much success in such a short amount of time?
Jake is young and hungry.  He has a tremendous amount of desire to drive well and to win.  Living in Southern California also affords him the opportunity to race year round so he gets lots of seat time.  I enjoy working with Jake because he's coachable.  He listens to suggestions, understands what you're saying and is able to accurately translate what the car is doing and how it feels to us so that we can make the right adjustments.
If you had to rank these modifications in order, how would you rank them and why? Tires, Brakes, Horsepower and Shocks/Suspension.
Tires, Shocks/Suspension, Horsepower, Brakes.  Unfortunately most people assume more horsepower equates to better performance.  What they don't understand is that if you can't get the power to the ground, all the horsepower in the world won't help the car perform better.  As a suspension guy, I'm biased toward suspension but the reality is, tires dictate everything we do.  As tire technology evolves, we are able to be more aggressive with the different suspension components to increase grip.  A better tire affects the shocks, springs and even the brakes.
What makes a high performance shock superior to an economical shock?
A shocks sole purpose is to transfer and dissipate energy in the form of heat.  Whether that energy comes from hitting a pothole or rounding a turn on a road course, the shocks ability to dissipate the energy received from the input into heat, while prolonging the performance characteristics of the shock is what separates a high performance shock from an economical one.  That comes through the use of superior materials, coatings, seals and a high grade oil. There's a lot more when it comes to tuning a shock and matching it to a particular vehicle and a person's driving style but that is what it boils down to.  Prolonging and preserving a shocks ability to remain consistent in its ability to dissipate energy in the form of heat.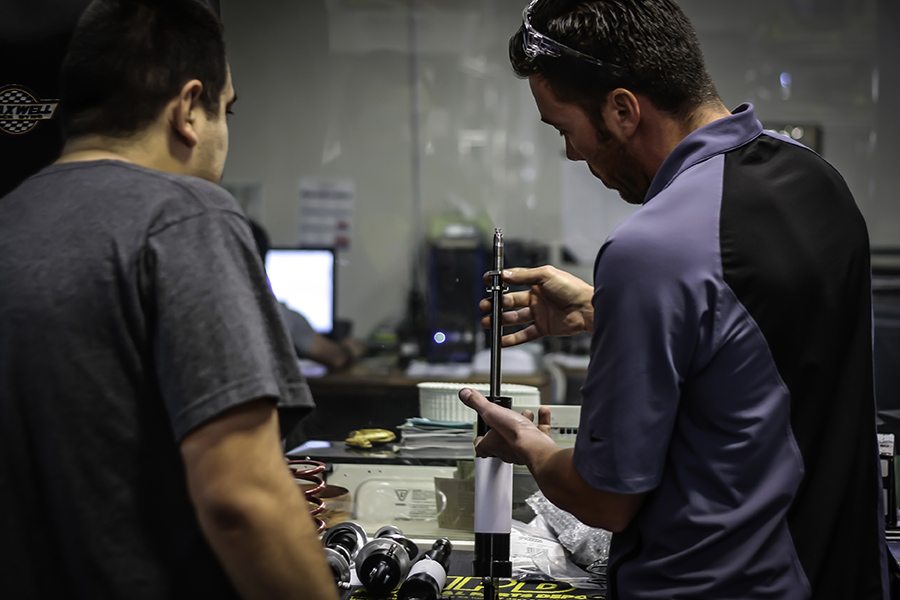 What is the most overlooked or misunderstood aspect of shocks and suspension?
Most people assume that every handling issue they have with their vehicle can be corrected with shocks.  They choose shocks because that's the easiest thing to adjust when in reality it could be an issue with tire pressure, camber/castor, a sway bar, spring rates or even a brake issue.  Shocks aren't bolt on performance in the same way that a new cam or exhaust and intake system is guaranteed to increase horsepower.  If a car doesn't "feel" right there are a lot of things that could be going wrong that have nothing to do with the shocks.  When all is working right, a performance set of shocks can make a world of difference but trying to fix handling problems by just bolting on a better set of shocks isn't always the solution.
So from a performance aspect, shocks will require occasional tuning to match variances in track conditions etc?
If you want to get the best performance out of the shock, yes.  The handling conditions of the vehicle are affected by track conditions, weather conditions, surface type etc.  In all reality, if a driver is at an event, they should be making changes to their shocks when going from the autocross to the road course.  If you've got a hot rod that you're setting up for cruising, you won't need to be tuning the suspension because you can find a sweet spot for that type of driving and a high performance shock will remain consistent.  But where you're driving in different environments with changing conditions, adjusting the shocks is crucial to maintain peak performance.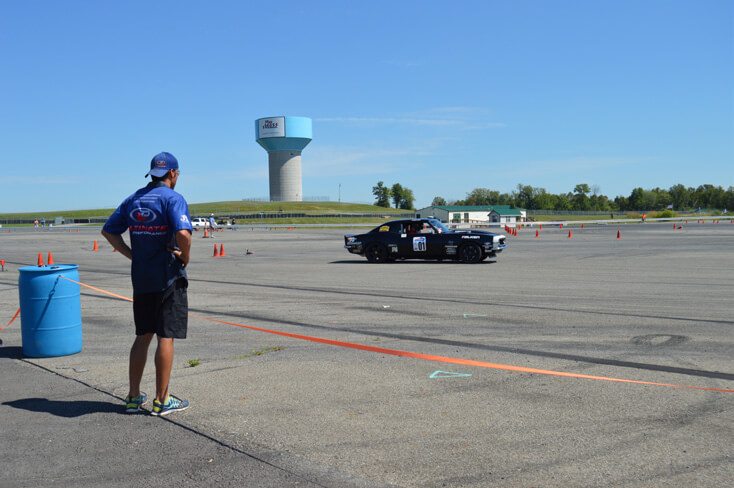 How did you meet Cris at JCG Restoration and Customs?
Initially I think Cris thought I was another nosey sales guy trying to push him some on shocks.  [Laughs]  Once we got to talking I think my technical knowledge and my ability to actually back up what I was saying formed our business relationship and ultimately our friendship.  I take a technical and informative approach to sales; educating people on the technical aspect of shocks and thats usually what makes the sale.
You work a lot with JCG Restoration and Customs when you're on the west coast.  What is your relationship with JCG and how has it benefited Ultimate Performance?
For me, JCG is essentially a west coast extension of what we do at Ultimate Performance.  Cris has made a significant investment in a shock dyno and all the necessary tools and shims for me to be able to tune shocks when I'm on the west coast.  Having access to the autocross at the Camarillo airport allows us to test and tune which results in the rapid development of new products.  Cris is passionate about making sure the suspension on his customers cars is spot on so we've put a lot of time in together on projects like Blu Balz and the 70 Challenger to make sure we've got it right.  With the Challenger, Cris even brought in Danny Popp and Brian Hobaugh to drive the car and give feedback while I was tuning it.
Whether you're building a track car for competition or simply looking to improve the performance of your cruiser, we provide custom shock packages for a wide variety of vehicles and virtually any application.  If you're interested in outfitting your vehicle with a custom shock/suspension system, get in touch with us HERE.