It was a weekend of triumph, tragedy and lots of learning for the JCG crew at the Las Vegas USCA event this past weekend.  With three cars competing, JCG Restoration and Customs was well represented and came out swinging.  Jake Rozelle aimed to make it two in a row in the super competitive GTV class while Karl Dunn was eager to break in his newly updated C5 in the GTS class.  Cris Gonzalez was their to support the JCG drivers but it wasn't all work and no play for JCG's headman as he competed in the vintage class with his JCG Restoration C3 corvette.
In the GTV class, Jake Rozelle managed to carry his momentum from Thunderhill Raceway, taking first place in all three performance events and securing the overall GTV win in Las Vegas. Having already secured a spot at the Ultimate Street Car Invitational, Rozelle is able to focus on getting his car dialed in and earning valuable points towards the series championship.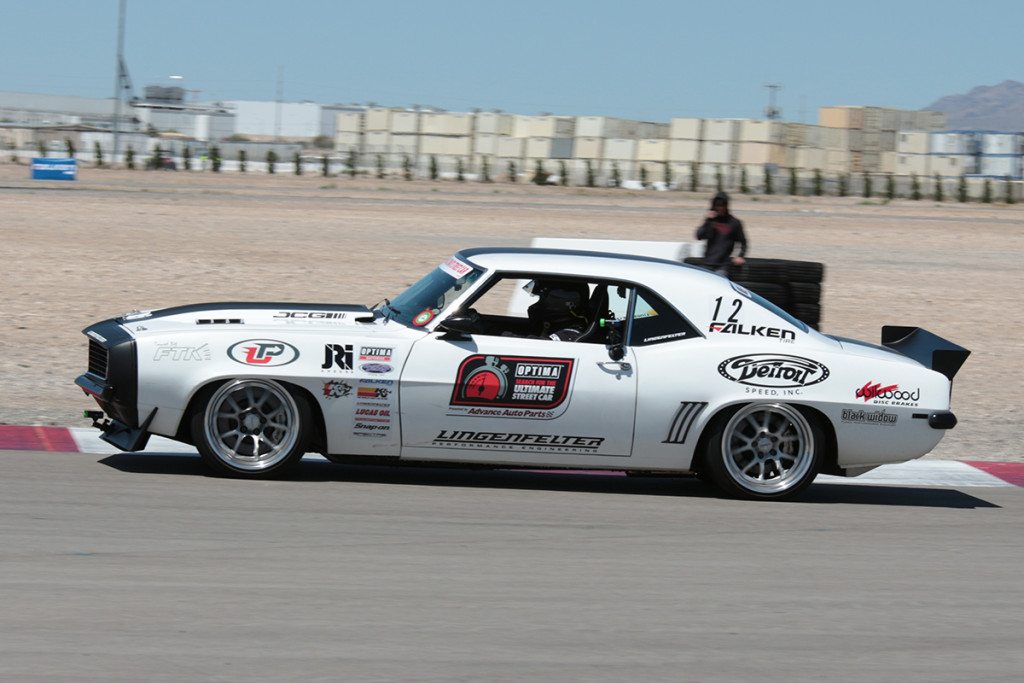 JJ and AJ from Ultimate Performance were in attendance working with Jake, Karl, & Cris between heats and making minor adjustments to the cars between events.  It's support like this that has earned Ultimate Performance a great reputation in the industry and thats exactly why we work hand in hand with them on developing shock packages & suspension upgrades for our cars.  The Rozelle's '69 Camaro received an upgraded set of  JRI/Ultimate Performance shocks for the event which had the car handling on point. Jake claims that his '69 is the best it's ever handled at an event.
In the Vintage class, Cris was doing well with a 3rd place position in the autocross and looking to improve but unfortunately fell victim to the curse of the C3; a broken rear differential.  This would end his day early but he was satisfied with the performance of his car until it broke.  "I knew there was a chance the diff and ring & pinion might go at this event" said Gonzalez. "This is the second time it's happened in this car and we are working on a solution to solve this problem once and for all."  If necessity is the mother of invention, this is a fix that is long overdue and JCG has parts on order and a plan in place that should drastically improve the design.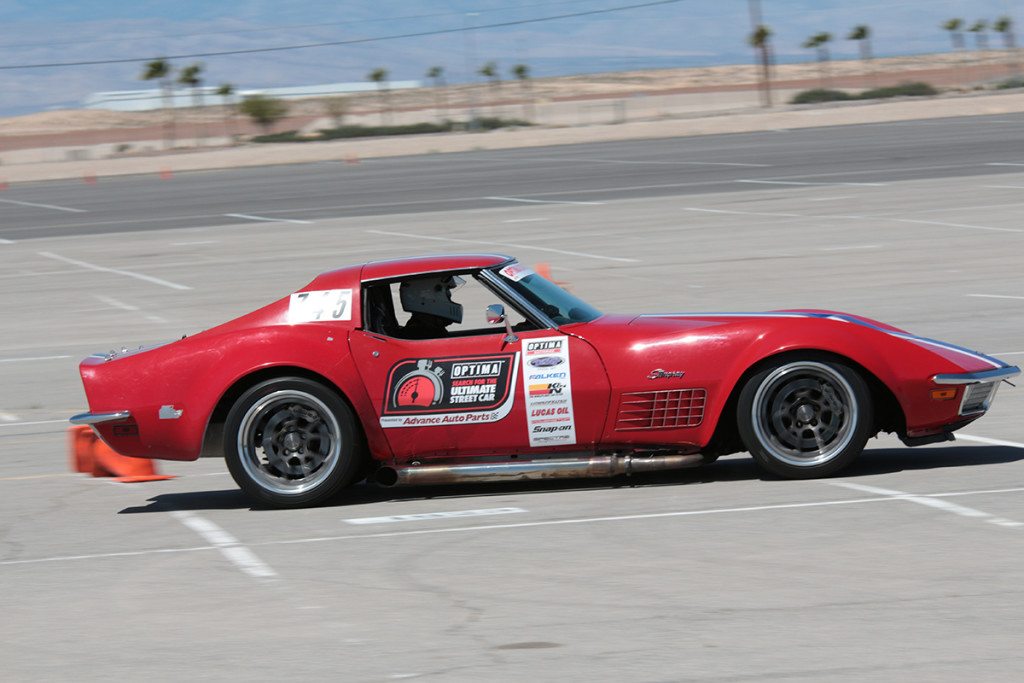 This Vegas USCA event was a test for Karl as he was debuting his newly updated C5 Corvette and hoping to get as much seat time as possible with all the new upgrades on the C5.  Unfortunately for Karl a weight discrepancy would put him under the required 3200 pounds for the GTS class.
Having weighed the car at the shop and making a few modifications, Cris was confident they had met the weight restrictions according to the shop scales.  Unfortunately on race day the car failed to pass inspection and Karl was moved to the GTL class.  "Their scales are the official scales for the series so it was really on us" said Gonzalez.  "As the sanctioning body of the event, USCA updates the rules and it's up to us as drivers to keep up with any changes from year to year.  We'll chalk this one up to a learning experience and make sure we scale the car at the official inspection station to make sure we make weight at all future events."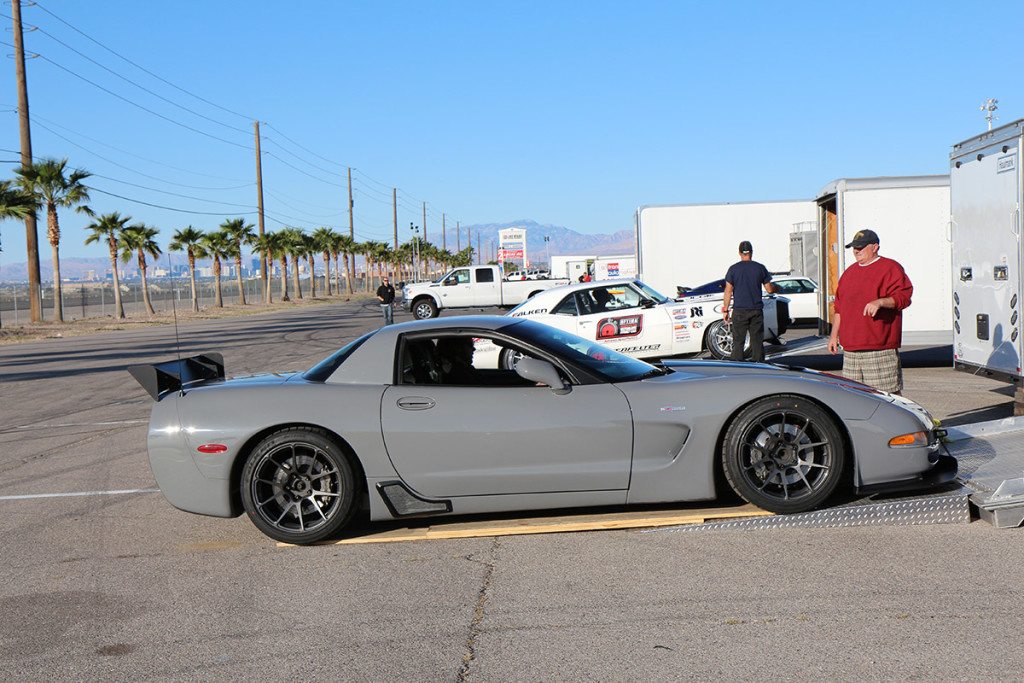 Weight issues aside, Karl put in a stellar performance in his JCG Restoration built C5 Corvette.  The latest round of updates included a new LS7 de-stroked 388 powerplant, new ratios on the transmission and differential built by RPM Transmissions as well as a host of other suspension upgrades, all tuned to Danny Popp's Raft Motorsports specs.  According to Cris, the reigning OUSCI champion had quite a hand in getting the car set up before the event.  "Danny has been instrumental in every aspect of getting this car ready to go for Karl.  We were on the phone almost every other day leading up to the event going over setup and making sure everything was dialed."
The time invested paid off as Karl's time's would have placed him at or near the top of the GTS class, potentially earning him that coveted invite to OUSCI 2016.  Regardless of the outcome, Vegas proved to be a successful demonstration of the car (and Karl's) abilities and he is eager to come out swinging at the next event.