You never know what Cris Gonzalez of JCG Restoration and his team of builders have going on behind the scenes and 2016 looks to be no different.  We sat down with the man himself and asked him what his plans were for the coming year and what changes were on the horizon at JCG Restoration and Customs.
1) You recently announced some changes at JCG Restoration and Customs, including the transition to JCG Performance Center. What are you guys up to and what is the new name all about?
Most people assume that all we do is large scale builds.  While that has historically been a big part of what we do, with the increasing popularity of the pro touring industry, we are positioning ourselves to provide performance upgrades to people interested in racing or autocross verses just building custom cars. The new plan is to open up our shop to service cars with all sorts of performance upgrades from custom shock and suspension packages to brake packages, LS conversions/Coyote/ Late model Hemi and exhaust systems.  We will race prep a customers car just like we do our own or someone like Jake Rozelle who competes nationally.  That includes a variety of options including scale & corner balance, alignment and chassis set up.  We also build and tune custom shock packages through our partnership with Ultimate Performance.
2) So anyone, from an enthusiast who's interested in trying this whole pro touring thing on up to a seasoned professional, can drop their car at your shop and have it outfitted with anything from custom brake packages to shocks, suspension, aero packages and more?
Correct! We have the ability to make virtually any upgrade the customer could need, right down to designing and fabricating custom parts from scratch.  We start with a consultation to find out what the customer specifically wants to achieve and how that matches up to their budget.  From their we either dive in or create a plan of attack to complete the upgrades in stages over time as the customers budget allows.
3) You've gained a great reputation as a premier car builder, why move away from full restoration and towards the performance aspect?
Car building is something we will continue to do but will just not be the main source of our workload anymore. Large scale builds take a lot of time and money.  A lot of people have an idea but don't fully grasp the scope of what it will take to accomplish what they think they want.  In all truth, what people want and what they can afford can also vary greatly.  There are just a lot of moving parts to doing large builds so while we will continue to do some, we are moving into the arena of performance upgrades.  We've had some great success over the last few years racing in events like USCA and OUSCI which we enjoy doing so we're looking forward to continuing to support the racers we work with while showing more people that they can get out and do this too!
4) Is that why you're expanding the fabrication space?
The fabrication shop has been a big part of our workload here at JCG Restoration from day one. My main fabricator comes from production welding and manufacturing which is something that we plan on optimizing and expanding to obtain more work; even from outside the automotive industry.  We have a complete design team in house which allows us to produce and manufacture components from concept to creation.  This expansion will allow us to acquire more machines for fabrication and really up our production. We should have it up and running mid to late 2016.
5) You've said you'll still do some restoration but will be more selective. What will it take for JCG to take on a full scale build in the future?
A solid plan and understanding from the customer of what it takes to build a custom car.  An understanding that the details are very time consuming and usually the most costly part of the build as the details are what sets the car apart from a traditional restoration project to a next level, turn key build.
6) We've seen that Blu Balz is going under the knife in 2016. What do you have in store for this rebirth of a popular classic car?
Lots of changes to the structure of the car which will enhance handling and reduce weight.  We're going to keep the project pretty well under wraps during the build process but we'll throw out a few teasers here and there to keep things interesting!
7) Can people expect to see it on the track and at events in 2016?
Mid to late 2016 is the goal!
8) The Challenger/LS conversion got a lot of press and received a ton of attention from both sides; those who appreciate the ingenuity of the project and those Mopar "purists" who think it should have been kept original. What's your take on all the hype and controversy?
The owner of the Challenger is a big fan of all three of the major muscle car manufacturers.  He owns a Chevrolet Camaro, a Pontiac Trans Am, a 70 Ford Fastback Mustang and the 70 Dodge Challenger and drives them daily (weather permitting).  We also road race and autocross all of them.  We designed the cars to have a sort of "universal" power plant with an LS/T56 for ease of service and extra parts for when we race them.  The owner feels that the LS engine is the best overall power plant for what he does with his cars.  Bottom line, that's what he wanted in the Challenger so that what we gave him! The big controversy is that it's a V-code car and Mopar purists consider this sacrilegious!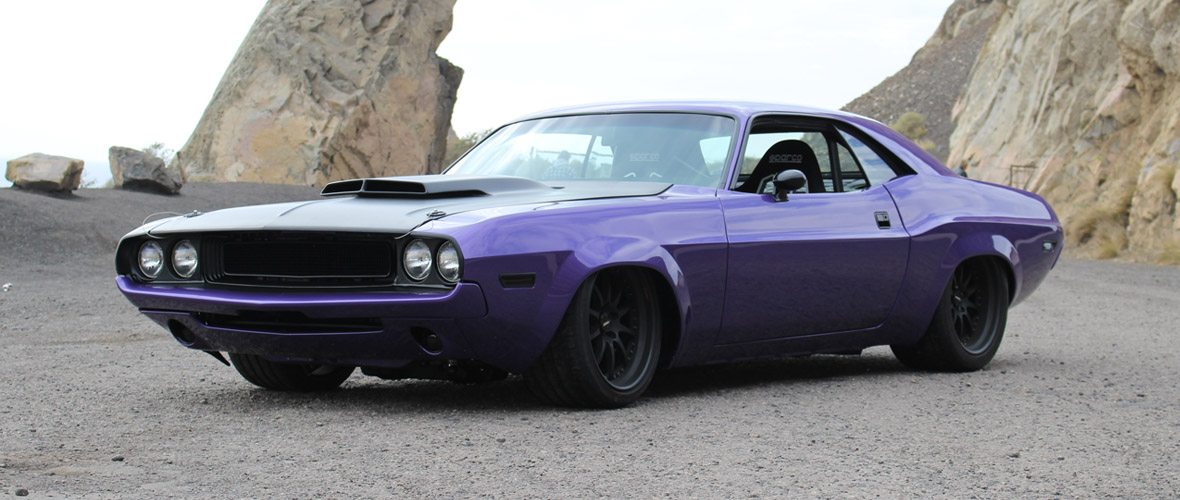 9) Any plans for another outlandish conversion on the horizon?
Honda S2000 maybe?!  All in all we are very busy and equally as excited to begin expanding our services to help more people get out on the track and enjoy driving cars how they were meant to be driven.
10) How can people get in touch with you with questions or to set up a time to bring their car in?
Drop me message HERE or give us a call at (805) 988-5080!